Fired for blogging
Picked the following up on Jeremy Zawodny's Blog that the evil people at Friendster who have no policies in place regarding to blogging, has fired one of their employees Joyce Park. Since when is it company policy to dictate what staff members may or may not say? I don't discuss what happened to me for 11 months at a dubious outfit and why I left, which is another story.
People have something called freedom of expression even in South Africa, and I would have expected a company like Friendster to encourage their staff members to express their opinions, etc. After all their company revolves around information, which we make available be it via Journals, Blogs, etc. etc. and how people connect together via what they call Friend Networks.
And Jeremy if Yahoo! did decide to fire you, there would be an huge uproar in the blogging community, which they most likely would want to avoid, if you ask me.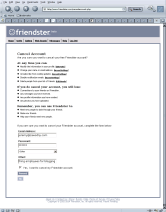 No, not me. (But would it surprise you?)

It seems that Friendster, who had no policy at all on employee blogging, has fired Joyce Park. You may remember her from such debates as Java vs. PHP. Or maybe her book. Or maybe mod_pubsub (blog).

Take a minute. Go read her blog. See what you can find that's so offensive to the company that they had to fire her.

I'm really resisting the urge to say what I really think about Friendster's current and past management. I think it speaks for itself.

Do you think they'll add a "bloggers need not apply" banner on their jobs page? I'm guessing not. Why? Because "you can work on social networking, but you cannot blog" just doesn't sound right, does it?

Now, pardon me while I got figure out how to cancel my Friendster account. I suggest you do the same.

Wow, that was easy! The image at the right (larger version) is what it looks like to cancel your friendster account because they fired an employee for blogging.

Just in case you wondered.

Related Coverage:


Update
As I've been pointed out, Friendster has a long way to progress as it is still BETA and does not connect users in various ways as I have been thinking.